Since my previous two posts, I've had a surprising amount of positive feedback. And since I am currently without internet, and doing a moving image unit at university, what better time to go on a film binge, and then tell you all what I thought of them? This time, I present to you, three very different forms of Science Fiction.
Directed by Terry Gilliam
"A bureaucrat in a retro-future world tries to correct an administrative error and himself becomes an enemy of the state." - imdb
'British Blade Runner' were the first words that sprang to mind when I turned on this film, and I resent saying that, as I don't like to compare films from the word 'go'.
Terry Gilliam is a filmmaker I am very familiar with, having written films such as 'The Adventures of Baron Munchhausen' and the Monty Python films. So I very eager to see what his take on this particular genre was.
I loathe to admit it, but I was constantly linking it to Ridley Scott's 'Blade Runner'. The sets, the costumes, and at times, the music. However, it is important to look at this film in it's own right, because apart from the mise-en-scene, this film was very much it's own thing, and did it's own thing very well. I thought the characters were great and the plot was humorous. It was full of moments that played on stereotypes and cliche's. Moments such as Sam's new boss smoothly walking through the halls of the workplace, being surrounded by the buzz of reporters and showbiz. Also the ongoing fiasco of Sam's mother and her friends going through extremist cosmetic surgery.
While not openly being a comedy, it was funny merely because it was witty. It was quirky and felt very very British. It's definitely an essential watch if you're into obscure, cult science fiction.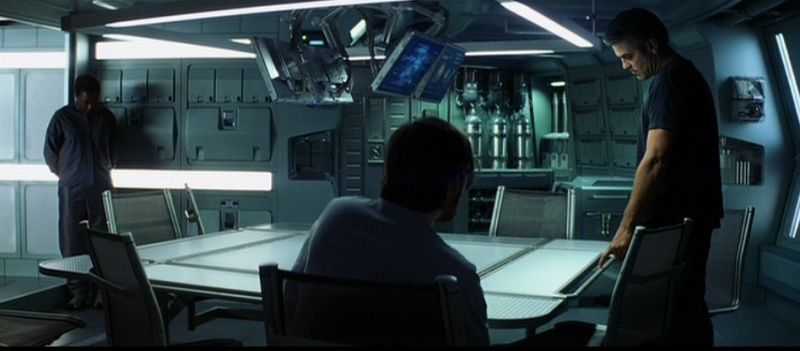 Directed by Steven Soderbergh
"A troubled psychologist is sent to investigate the crew of an isolated research station orbiting a bizarre planet." -imdb
This film was advertised to me as a 'Romantic Sci-fi'. Well, what a load of rubbish that was. To me, this looked like your average Science Fiction blockbuster, complete with George Clooney, fawning over his significant other.
Wrong.
This film was confusing as hell, which caught me completely off-guard I have to say. A mind-bending drama set in space? Sounds ideal to me. However because this was not what I expected, I didn't really switch on my brain straight away, which left me thoroughly confused for a lot of the film (and may I point out, this is no fault of the film, this is my own stupid fault.)
Chris Kelvin (played by Clooney) is spends the whole film in a remote space station. Obviously, being set in space, the concept of days and nights are lost, and this is something that's heavily played on. When Chris arrives to at the station, it feels like he's arrived to an abandoned base in the middle of the night, ahead of a night full of disturbances that never ends. The whole film feels like those unsettling nights where you just can't sleep. It made me very uncomfortable in a very good way. You really began to understand why the few characters there were, were deteriorating in the way that they were.
It was shot very well I thought, with minimal use of CGI, and very effective lighting. What I thought was interesting was the cutting of the film. The constant chop between noisy flashbacks and the cold silence of the night really felt like constant disturbance from feverish dreams. Those sort of nights are nights that many of us will have experienced, and I thought it was clever how the film used that to help you relate to a set of characters, who are experiencing something that you will probably never experience.
I liked a lot of what this film was doing, but the lasting impression was relatively average. Which is weird because it ticked a lot of boxes for me. Maybe it was because it was doing a lot of things I was already too familiar with? Maybe it was the actors, or maybe it was the story? In the midst of my confusion, I failed to figure out what it was. I'll have to get back to you on that one.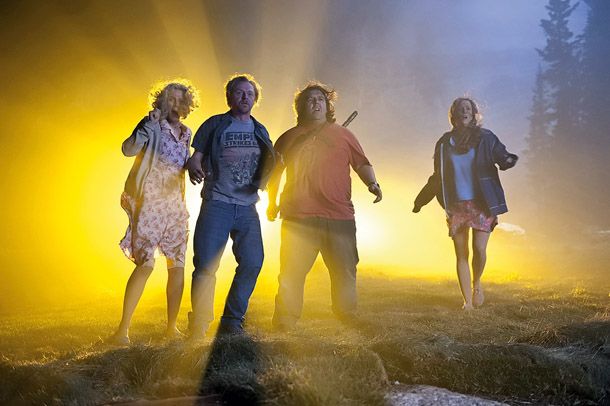 Directed by Gregg Mottola
"Two British comic-book geeks traveling across the U.S. encounter an alien outside Area 51." - imdb
Whilst I was watching this film, only one question sprung to mind; why had I not watched this sooner? British dream team Simon Pegg and Nick Frost take on comedy/sc-fi accompanied by Seth Rogan, Kristen Wig and, my favourite, Sigourney Weaver.
The film starts with Graeme (Pegg) and Clive (Frost) at San Diego Comic Con, before they embark on a road trip across all the UFO sights of the southern states. And to be honest, this already sounds like an ideal trip for me, visiting all the iconic landmarks that map out North America's speculation about all things alien. But obviously, things don't go smoothly for them, when they meet the government's alien hostage, Paul.
The film is loaded with cultural references from the start. There's a load of obvious memorabilia at Comic Con, followed by references to other sci-fi films throughout, such as E.T. and Close Encounters of the Third Kind, not to mention Sigourney Weaver's mere presence (I was given many opportunities to geek out). It was a beautiful pastiche and executed with quick wit and humour from Pegg and Frost, who were, are always, on top form. And I have to say, Science Fiction comedy is something that has not really been done, for good reason, and I'm not sure it could have really been pulled off slicker than this.
I imagine most people reading this will have already seen this film, but if you haven't, I encourage you to watch it. It was a nice, fun break from all the heavy films I've been watching recently.