"A bipolar, bigoted junkie cop manipulates and hallucinates his way through the festive season in a bid to secure promotion and win back his wife and daughter." - imdb
If any of you have been on the London Underground recently, you will have seen that is is currently full of adverts for a large collection of generic rom-coms. Amongst titles such as 'Thanks for Sharing' and 'Girl Most Likely..', 'Filth' looks better than ever. The poster itself should be enough to capture your attention. Not only that, but it is based on the novel by Irvine Welsh. Those of you who know me, will know how much I love Trainspotting, so obviously I was very excited for this.
It did what it said on the tin and was well and truly filthy. James McAvoy plays Bruce, the aforementioned cop, and pulled it off in a way that only he could. He playes Bruce with a real dirty charm, that allows him to get away with all the vile acts he carries out. Acts including sleeping with his colleague's wives, snorting cocaine and blackmailing under aged girls. But the thing I love about Irvine Welsh is that he does not glamorise mental illness and drug use. The whole thing is harsh and gritty, but not without his usual wit.
It's hard to adapt a Welsh novel after the success of Trainspotting, but I think that Filth was very successful and I would definitely recommend it.. if you have a strong stomach.
The Cabinet of Dr. Caligari (1920)
"Dr. Caligari's somnambulist, Cesare, and his deadly predictions." - imdb
Something a little different; a 20s German impressionist film. I expected this to be good, as I really enjoyed Nosferatu, and I had read about the style of the film. I could only wish it had the same impact on me now than if I had watched it when it first came out. However, I did enjoy it, and have a great appreciation for what it was doing.
As I'm sure many of you know, German cinema died along with the war, and this style of film died when sound was introduced to cinema. And while sound is cinema is obviously a blessing, it is loss that we no longer make films like this. Due to lack of sound, the film makers had to concentrate a lot more on the image, and this led to a lot of stylistic sets and camera techniques. This film in particular is full of perspective-bending, hand painted sets.
If you're interested in film as an art, I would say that this one is essential to watch.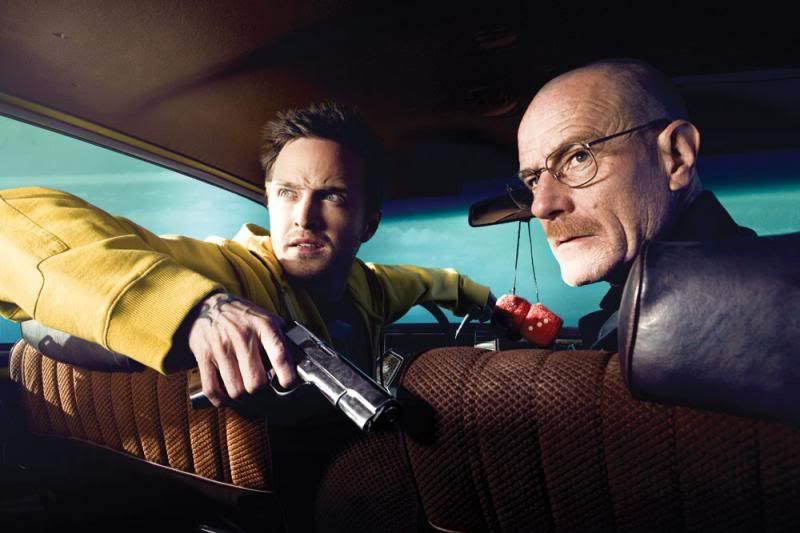 Directed by Vince Gilligan
"To provide for his family's future after he is diagnosed with lung cancer, a chemistry genius turned high school teacher teams up with an ex-student to cook and sell the world's purest crystal meth." - imdb
I decided to catch up with the rest of the world and watch this series and just like everybody else, I love it. I must point out that I have not seen season five yet, so spoil it for me at your own peril.
The story follows the development of Walter White (Bryan Cranston) and his partner Jesse Pinkman (Aaron Paul) as they produce and supply crystal meth. Now I love good character development, and this series has plenty of it. It's exciting and gripping and I find it really hard to watch just one or two episodes.
I won't go into too much detail because pretty much everyone has seen it. But if you haven't, I implore you to watch it.